Things seem to be getting a little complicated for Canada these days. There had been a strike in Vancouver same time last year that was only resolved after negotiations with the provincial government of British Columbia. But it gets worse when you head over to Ontario, which has one of the biggest debts in North America.
In an effort to reduce this debt, the new premier Kathleen Wynne has been implementing new measures that not a lot of people would agree with.
Current Situation for Ontario Teachers
These austerity measures meant to bring balance to the Ontario budget include clamping down on various labor unions, including that of registered nurses and teachers. These significant cuts could spell disaster for these services, which has sent the public at an uproar.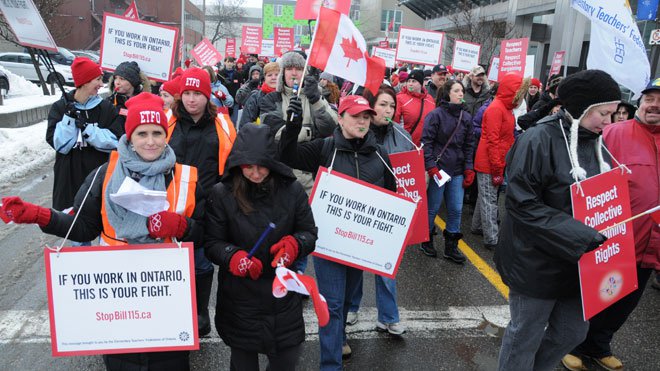 While it is meant to do well in dealing with the largest subsovereign debt in the world, it also threatens to go against the Liberals' promises of looking after services.
As it closely resembles the platform that the Progressive Conservatives ran with in last year's election, there has been much displeasure expressed towards this. The threat of a large teachers' strike looms after the teachers' union walked away from provincial contract talks, which was going nowhere in placating either the provincial government's recently-adopted slash-and-burn economics or the teachers' requests for a peaceful resolution.
Multiple cities in Ontario have been participating in the negotiations, including Sudbury, Peel, and Durham. The Rainbow District School Board has had talks with the Ontario Secondary School Teachers' Federation (OSSTF) in the hopes to reach some arrangement.
Meanwhile, the public high school teachers in Peel set a May 4 strike deadline, which has since passed and had the chair of Ontario's second largest school board reacting in dismay. The same thing seems to be happening in Durham as well.
It is now two months left in the current school year, which is set to end in late June. With the Ontario government being unable to satisfy all the teachers' demands, it is feared that a strike similar to the one in Vancouver last year will take place.
There are teachers who are even taking measures like bumping failing students with grades as low as a 40 percent average to passing, according to a BC school district memo, which is rather questionable. But with the current socio-economic climate made rough due to these measures, they have been left with little to no other choice.
What Students and Parents Can Do
While teachers are set to strike, students and parents are being advised to take measures in order to stay engaged in order to continue the children's development while teachers go on strike. Here are some of the things that can be done during this summer:
Reading is perhaps the best way to stay engaged. It doesn't have to be a boring textbook; even a work of fiction or something else that is fascinating can help. It is not limited to only students, but also to everyone else who are looking to be mentally stimulated or just enrich their lives in their own way. Books are a major tool for improving one's own life and understanding of the world, so it's natural for it to be the number one pointer for this list.
This one will take some getting used to, but you should set some time aside to review course materials, textbooks, and graded tests in order to deepen one's understanding on a particular topic, especially one that may be giving you some trouble in school. This can help better prepare you for your return to school once the strikes do end. Looking up additional information on the Internet is also good for supplementing your efforts, or even going the extra mile and getting help from online tutoring services.
You can also create your own field trips. Invite some friends to plan excursions to places like museums, art exhibits, zoos, or the Science Centre to learn more while having fun. You may also enroll in online or community courses on things you may be interested in such as learning about computer programming, a new language, and so on.
If you need a bit of cash, you can also look for a summer job. This will enable you to better get used to the real world once you finish your schooling and start working, as well as earn some extra cash on the side on your own. There are few things more liberating than being able to earn your own keep.
There are a lot more things that you can do in order to spend your summer productively. While the teachers fight for their own livelihood, the least you can do is to make their lives easier by building upon what they have planted in school.
If you're looking to get help with Math during the summer break, you can also check out some of our free lessons and guides for Math 9, Math 10, Math 11 and Math 12 here at StudyPug.