Representing a linear system as a matrix
Representing a linear system as a matrix
In this lesson, we will learn how to turn a linear system into a matrix. What we do is draw a big bracket, take all the coefficients of each term and write it in, draw a vertical line, write all the numbers after the equal sign, and end it with another big bracket. Terms that do not seem to have a coefficient actually do. For example the term y can be rewritten to 1*y, and so the coefficient of this will be 1. Notice that when you turn it into a matrix, all the variables disappear since the most important part are the numbers.
Lessons
We can represent a linear system as a matrix. For example, the linear system
can be represented as the matrix: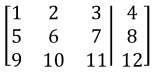 where
are variables and the vertical line represents the equal sign for each linear equation. We see all the
's disappear, and we take all the coefficients and the numbers after the equal sign.
Introduction

Representing a linear system as a matrix Overview:


---

1.

Representing a linear system as a matrix
Represent each linear system as a matrix:









---

2.

Representing a matrix as a linear system
Represent each matrix as a linear system:


a)




b)




c)




d)




e)




---