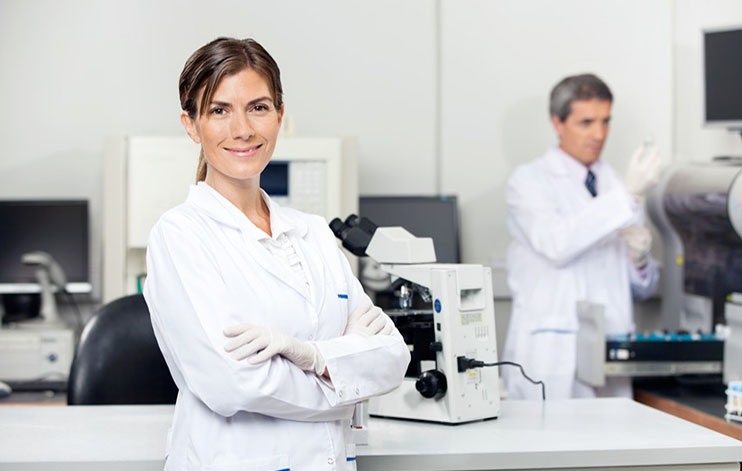 There's a gender gap worldwide in the science, technology, engineering and math (STEM) workforce. Although the numbers and percentages vary by country, women everywhere are far less likely to pursue an education or a career in a STEM field. Given that women comprise 50 per cent of the global population, there's a remarkable waste of potential taking place.
In addition, STEM skills are increasingly important in the job market. The Million Women Mentors organization estimates that 71 per cent of all jobs in the United States 2018 will require these skills. If we don't interest girls in STEM subjects while they're young, there is a danger that they will be left behind when it comes to career opportunities.
Girls in Science – What the Numbers Tell Us
Let's examine some of the data. In Canada, only 31 per cent of university graduates in science, technology, engineering and mathematics (STEM) fields are women, says Statistics Canada. Even more discouraging, women comprised only 21 per cent of the Canadian STEM workforce in 2014.
The United States can't claim to be leading the way either. American women comprise only 24 per cent of the STEM workforce, and, just as disheartening, 50 per cent of women drop out of STEM positions after 10 years.
Women In Stem
UNESCO, the United Nations Education, Scientific and Cultural Organization, has examined the percentage of women who pursue STEM research careers, and many powerful or populous countries are falling down on the job when it comes to encouraging and empowering women. Only 20 per cent of nations worldwide have achieved gender parity when it comes to scientific research.
For example, China, with its massive, growing population, is no shining star; only 35 per cent of its researchers are women. In Japan, with its sophisticated technology, only 15 per cent of researchers are women. However, Malaysia (50 per cent), New Zealand and the Philippines (52 per cent apiece), Thailand (53 per cent), New Zealand and Myanmar (86 per cent) have breached the parity barrier.
In Europe, the United Kingdom can only claim that women hold 38 per cent of the STEM research jobs, while in Sweden, known for many progressive social policies, it's only 37 per cent. In Russia, women hold only 41 per cent of STEM research jobs. Tiny Monaco, however, can boast that 50 per cent of its researchers are female.
Latin America has four countries that can claim a respectable number of female researchers: Bolivia (62 per cent), Venezuela (56 per cent), Argentina (53 per cent) and Paraguay (52 per cent).
The numbers make it quite clear that there's work to do in encouraging women to pursue STEM careers. Luckily, a number of organizations and governments are entering the fray, exploring why the problem exists and attempting to rectify it.
women in Science and Technology
One person who has spoken out about the need for more women in STEM field is Chelsea Clinton, daughter of the former U.S. president. Her family's Clinton Foundation has funded an initiative called No Ceilings: the Full Participation Project, an effort "to inspire and advance the full participation of girls and women around the world."
"STEM around the world but acutely here in the U.S. is an area where not only the gap remains but the gap has widened in the last 20 years," Clinton told TIME magazine.
The Clinton Foundation's project is "convening global partners to build a data-driven evaluation of the progress girls and women have made and the challenges that remain to chart the path forward to full participation in the 21st century."
Most efforts to assist women are more narrowly focused on issues such as STEM. At the University of Toronto, for instance, the Faculty of Applied Science & Engineering is employing a variety of strategies to recruit more young women into engineering. One initiative is the annual Young Women in Engineering Symposium that brings top female students to campus for workshops on subjects such as sustainable engineering and lectures by renowned researchers, such as University Professor Molly Shoichet, a biomedical engineer, told U of T Engineering News.
"The reason I care [if women go into science] is that we are trying to solve some really big problems, and we cannot rely on just half the population to do that … Women are going to bring a different approach, different creativity and different ideas."
Women in Stem Careers
Across the ocean in Great Britain, Women in Science and Engineering (WISE) U.K. is on a mission to add one million more women to the STEM workforce. Among its initiatives, the organization consults with businesses about recruiting and retaining women and offers discovery workshops to inspire young women to pursue STEM careers.
Halfway across the world in India, the robotics education company, Robotix, sponsors Indian Girls Code, a program that inspires girls, especially those from underprivileged backgrounds, to become involved in computer science and technology. The program launched with a series of workshops for students in Grades 7 to 12, teaching them to create computer applications for real world problems.
Each continent has a variety of efforts dedicated to attracting women to STEM careers. Opportunity awaits.