Converting from general to vertex form by completing the square - Quadratic Functions
Converting from general to vertex form by completing the square
Lessons
Notes:
Step-by- step approach:
1. isolate X's on one side of the equation
2. factor out the leading coefficient of
3. "completing the square"
• X-side: inside the bracket, add (half of the coefficient of
• Y-side: add [ leading coefficient (half of the coefficient of ]
4. clean up
• X-side: convert to perfect-square form
• Y-side: clean up the algebra
5. (optional)
If necessary, determine the vertex now by setting both sides of the equation equal to ZERO.
6. move the constant term from the Y-side to the X-side, and we have a quadratic function in vertex form!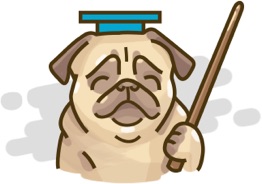 Converting from general to vertex form by completing the square
Don't just watch, practice makes perfect.
We have over 1850 practice questions in Algebra for you to master.