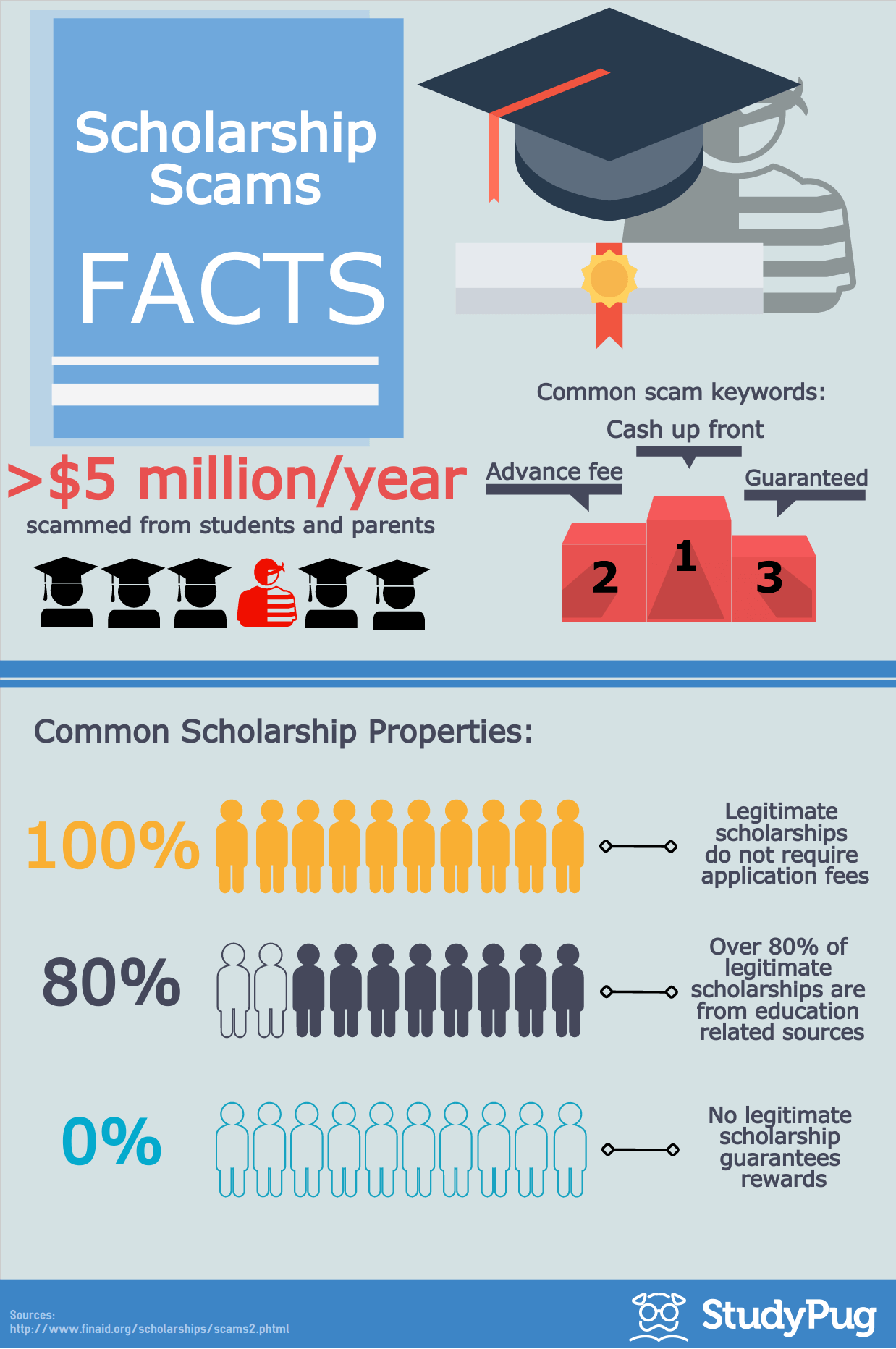 With over 1.3 trillion dollars of student debt in the US alone for 2017, it's no easy feat funding your post-secondary education, but vital to your future when it comes to landing your dream job. Luckily there are scholarships to lessen that burden on students. Especially for the A+ students. Regrettably though, there is a large group of people out there that preys on students who are eager to secure funding for their tuition and textbooks by scamming them with a promise of a school.
What do you need to look out for when it comes to unreputable scholarships? What can you do to avoid it? And how do you report scams? We've got you covered so you don't put yourself at risk.
Examples of College scholarship scams
First, let's go through some common scams so you can be aware of them and increase the chances of you spotting them when you apply for or look through scholarships.
Cash up front scholarship scams
This type of scams aims to take your money by pressuring you into paying them first. This can be in the form of a redemption fee or "taxes" prior to you being able to claim a scholarship. You'll find yourself having to pay to receive a scholarship—which likely isn't the deal you had in mind anyway when applying for funding. Then you'll get messages on complications regarding the loan or find that communications have stopped altogether.
Advance-fee loan scholarship scams
Scammers that employ an advance-fee loan to trick students offer uncharacteristically low-interest educational loans. What's the catch? You'll have to pay a fee before you can get a loan. What typically happens after you pay is that they take your money and run. Your loan will never proceed. Or you might get roped into a loan where you should have read the fine print.
Most real educational loans don't collect fees prior to giving you a loan. They're typically deducted from the disbursement checks you'll receive. You can also see if the loan is issued by a recognized bank or lender. If you've never heard of them and cannot find info on their loans prior to this application season, you've likely come across a scam.
Scholarship experts scam/ Guaranteed scholarship search service
Some companies and organizations help you search for scholarships. This is obviously not an issue, but a common scam appears in services that help you handle the search and paperwork in exchange for a processing fee. They will usually have an enticing clause such as "we'll secure you a scholarship or you'll get your processing fee back—guaranteed!" They may also claim that they have programs that will help you become eligible for financial aid such as grants and loans.
It's important to note that no company should be able to guarantee you scholarships. Your eligibility can be determined usually for free at student aid offices, and there's no need to pay someone to make you eligible for financial aid.
Scholarships that never materialize
Some scams occur during the sign-up period. You may be asked to pay a processing fee when sending in an application. It may just be a small fee that the scholarship says is for weeding out non-serious applicants. Stay clear of these. Scholarships aim to give money to students, not to take them away.
Application fees are one of the most common scams, and it's also one that companies find the easiest to get away with. Most people—upon never hearing back—assume that they didn't get the scholarship and write off the fee.
Seminars scholarship scams
You may be invited to a seminar to help you in your search for financial aid. It's free, so what can go wrong? Unfortunately, it's not as simple as that.
Most of these seminars are a trap and are platforms to sell insurance and other investment products. To target students, they will have student loans (with hidden high interest rates) or scholarship matching services that cost a pretty penny.
A lot of students who go also end up being influenced by the seminar's high-pressure sales pitches. Be sure to do ample research before attending a free seminar. If you do attend one, make sure to go in with the mentality of simply learning more and do not rush into any decisions.
More scholarship scam examples
The list above is in no way comprehensive of the scams out there. Scholarship scams vary by country, and sometimes even regions. Try searching online to see if there are scams that are more local to you that you should be aware of! Always keep an eye out for new, exposed scams when you're searching for scholarships.
How to tell if a scholarship is a scam
Did you apply for the scholarship?
A dead giveaway for a potential scam is if you don't recall applying for the scholarship that's trying to claim you won. During scholarship season, make sure you're keeping track of all the places you've applied to. This is good not only for spotting scams but also so you can follow up with places when necessary.
It's highly unlikely for you to get an unapplied-for scholarship since most scholarships are highly contested and require some sort of application in order to process those who qualify for them. Plus, legitimate places have a lot of applicants and they won't be able to reach out to those who didn't initially apply.
When you receive a scholarship offer from a place you didn't apply to, search them up online to see who they are. More likely than not, you'll find some questionable aspects to the site that you may recognize as one of the common scams listed in the previous section.
The name of the scholarship
One thing to note is that official sounding names do not mean it's a legitimate scholarship. Knowing that a lot of students are wary of scholarship scams, most fake scholarships make sure they sound official. Have a go at this one: National Scholars Alumni Foundation Scholarship. Sounds pretty harmless? It's a scam. You may even find fake scholarship emails that notify you a certain university has awarded you with a scholarship. Make sure you check if the email is actually from that institution and if that scholarship really exists. Don't trust a scholarship based on its name!
Beware of time pressure scams
A lot of scams try to capitalize on lowering the amount of time you'll have to consider whether they're legitimate or not. You may see that an email urges you to pay the fee as soon as possible so you can claim a scholarship, or they may tell you an application deadline is coming up and you'll need to pay now to reserve a spot. Some may even tell you that awards are first come first served.
As you can imagine, you'll feel hurried to make a decision. It cuts down on the time you'll have to spot signs of the scholarship being a fraud, or for you to do too much research.
Guaranteed grants/scholarships
Some places make sweeping claims such as guaranteeing you'll land a scholarship or that they can make sure you're eligible for a grant. Real scholarship places don't guarantee scholarships. Organizations that claim that they'll guarantee to secure you a scholarship or grant if you pay for their services are also lying. They can go as far as to help you fill out applications or perhaps figure out which scholarships would fit you best, but they cannot ensure you'll receive it.
As a rule of thumb, any place that says they'll 100% get you a scholarship (and in some cases, they'll guarantee your money back if you don't land something) are not to be trusted.
Open to everyone
It doesn't make sense for a scholarship to be opened to everyone. For examples, some scholarships are given to students who will be attending a certain school, taking certain specializations, or require that you've achieved some level of academic or extracurricular success. If there were no restrictions, the office handling the scholarship will be overwhelmed as everyone will submit an application.
It does, however, make sense for scammers. They are aiming to get as many people as possible to fall for their fake scholarship. That's why they'll open it up to everyone to maximize the people they'll be able to contact.
No past winners
It's perfectly normal for a new scholarship to be organized and therefore there are no records of past winners. However, if you get an email about winning a special scholarship that has no mention of being new or they suggest that they've awarded it out in the past to students like you, yet you're unable to find anyone else who has won it, watch out. Almost all scholarships list their winners, either in a blog post or on their website. This is so other people can verify their win, and it's an honor that should be recognized.
How to avoid Scholarship scams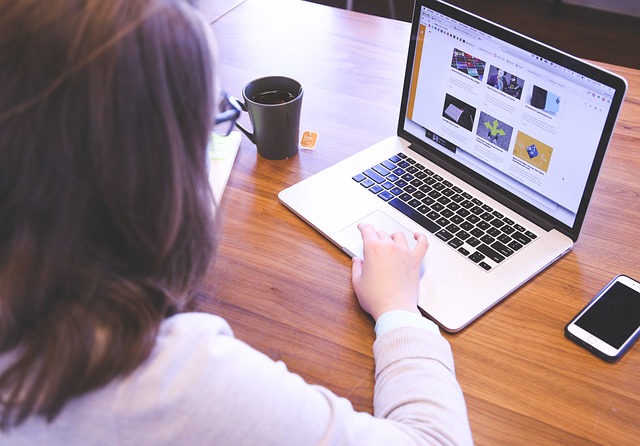 Understanding scholarship scams means you'll be more equipped to avoid them. So what are the ways to help you decide if you should pursue a scholarship that you've found or one that has contacted you?
Go to the guidance counselor or financial aid office at your school
If you're in school, there should be someone who can help you figure out if a scholarship you're looking to apply for (or have been contacted with) is real. Your school's resources are very good since they are in the education system and usually have experience with scholarship organizations. It's easier for them to recognize if a place is a scam or if they fall in line with the more traditional, legitimate scholarships they've seen in the past.
Check with accredited scholarship sites
Certain scholarship sites have been around for many years, providing options for students who are looking for financial help. You have likely heard of some during your time at school or from family and friends. The reputability of a scholarship can be confirmed online through resources like these. You should keep in mind that not all places that offer scholarships will be backed by an official organization. However, they may still be legitimate.
Pursue scholarships approved by your university
Universities frequently update students on available scholarships—especially at the end of a school term. These are usually places that the university has had experience with previously or they're from organizations that are reputable. You may receive emails about these scholarships directly from your faculty, or you may find announcements on your university's website. The good thing about announcements from your faculty is that there's a high chance that you'll qualify for those scholarships. For example, the biology department may reach out to its students about a grant for those who are advancing their study in biology. The students they reach out to will already fall under the grant's requirement.
Keep records
As mentioned above, you should keep a record of all the places you've applied to so that you can check back if you receive word back that you've won a scholarship. If a place tells you you've won something, make sure to keep records of your correspondences too in case you'll need to use it as proof to claim the scholarship (if it turns out to be real), or to report to the police.
Don't freely give out your personal info
It may just be a "registration fee" of a few dollars, but by giving away your credit card info, you don't know what risks you're exposing yourself to. You may also be giving away your phone number to a company who will later sell it to spam call lists. Make sure you're aware of where your information is going before you submit it.
Ignore offers with time pressure
A good rule of thumb is to ignore scholarship offers with time pressure clauses. Do not confuse time pressure with deadlines. All scholarships have deadlines or it would be very confusing as to when students are eligible to enter and when they have to get an application in.
Time pressure, as mentioned earlier in the common scams section, is a tactic to force you to make a decision without putting too much thought into it. This increases your chances of falling prey to a scam.
Use your instinct
One way to avoid scams is to trust your instinct. More likely than not, when you come across a case of fraud, red lights will go off in your brain. Whether those lights are telling you to research more before you proceed with a scholarship, or if they're telling you to stay away altogether, you are usually right.
Reporting Scholarship scams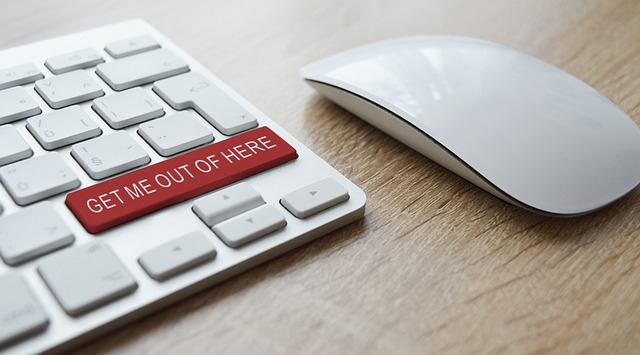 If you've spotted a scam or you have been scammed, what can you do? Make sure to report the scammers. This helps flag the scholarship for other people, and if possible, there may be organizations or government departments that can take further action. We've listed some places you can contact, separated into different categories for different countries.
Reporting Scholarship Scams in the United States
If you've found a scholarship scam and you're located in the United States, you can write a letter to:
Reporting Scholarship Scams in Canada
If you're in Canada, there are a few places you can go to bring attention to a scam:
Reporting Scholarship Scams in Australia
From Australia and you think you've come across a scholarship scam? Here are the places you can go to:
Reporting Scholarship Scams in the United Kingdom
Located in the UK? Here are your options to reporting a scholarship scam:
Reporting Scholarship Scams in New Zealand
Reporting Scholarship Scams in Ireland
Reporting Scholarship Scams in Singapore
The primary contact if you've encountered a scam or a case of fraud in Singapore is to go to:
Hopefully, this article helps act as a guide so that you're aware of what scams exist and how to spot fake scholarships. Stay safe and good luck with the rest of your post-secondary journey!