Does Online Math Tutoring Work? The Pros and Cons
With the advancements of technology including the Internet, high-resolution webcams, laptops and smartphones, online tutoring has become more and more prevalent in today's society.
Now for the million-dollar question… Does online math tutoring actually work? Are math websites effective?
Answer: Kind of – it does work for some but not for others
Tutoring online isn't for everyone. The younger generation is increasingly relying on technology, making it easier for him or her to adopt online learning tools. There are many pros and cons of online tutoring, so we will leave it to you to decide if it's right for you.
The Pros of Online Tutoring
There are a variety of companies that provide online tutoring; you are able to pick which system works best for you and find the ideal math tutor online based on your needs.

By doing an easy search you will be able to quickly find the answer to the question you are looking to solve.

It is always available, no matter the time of day or where you are, you can always log onto the Internet and get the help you need.

Most online tutoring is accurate, helpful and easily gives you the answers you need with a quick search.

Online tutoring portals are straightforward and easy to navigate.

Different types of technology allow for a variety of methods to help you solve a problem or find the solution to your problem.
The Cons of Online Tutoring
Like an in-person tutor, an online tutor is human too. They make mistakes and have good days and bad days making it hard to be consistent.

Not all online tutors will fit your needs, you need to investigate and find the right one for you. Finding a tutor online isn't as easy as it may first seem.

Most online tutors require you to book sessions with them just like an in-person tutor. The best ones get booked up quickly!

The online aspect can take away from the face-to-face interaction, therefore creating a disconnect between the user and the tutor.

Like all things, they cost money. You need to set a budget and find an online tutor that fits your budget.
If you're interested in trying out online tutoring, we're here for you. StudyPug comes prepared; we have videos that cover your entire math curriculum. Our tutors have experience helping over 2,000 students in hands-on environments and know what students need when it comes to help with math.
All of StudyPug's content is available 24/7 and is well organized so you can quickly find the type of question you are looking to learn or struggling to solve. Our videos are cut into bite-sized chunks so you can easily digest the information and not feel overwhelmed. Our videos never have a bad day so they are always sharp and on the ball.
To become a member of StudyPug, you pay a fixed monthly fee to gain access to all of our tutors and learning videos. You are able to view as many videos as you need and re-watch them as many times as you want.
So are you willing to take the plunge with online tutoring? Get unlimited homework and study help on StudyPug for only a fraction of the cost of hiring a tutor per month. Try it now. You've got nothing to lose, and a better grade to gain.
If you've already got a tutor, StudyPug is a good companion for you too. Read our next section to find out how StudyPug works with a math tutor to provide you with online math help!
How to Use StudyPug with a Math Tutor?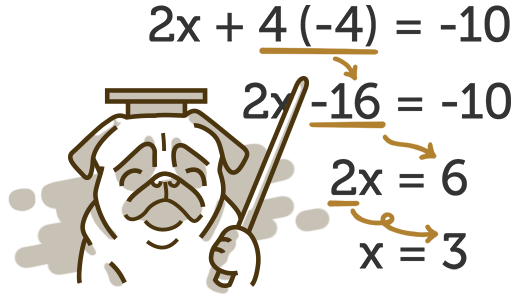 Learning math can be a challenge for most people, especially for kids who may not be that interested in the subject. However, the road towards improvement need not be too bumpy, as long as you know where to get help. Most of the time, tutors are hired to guide the process and help with various difficulties. Having a math tutor makes it much easier to understand what the teacher in the classroom may not get fully across.
But while having human help on hand is indeed good, there's still room for one that will help make sense of math even when the tutor isn't there. That's where StudyPug comes in as an online platform that you can access anytime to help make math more understandable through its organized lesson plans and concise video tutorials. It's like having a math tutor who has no schedule, doesn't sleeps, and never gets sick.
A common scenario is a perplexed student the night before the big test, cramming in the hopes of somehow passing it the following day. You may have had a session with your tutor doing his/her best to help you understand what you didn't, and you somehow get bits of it now but still have a few holes left to fill. If there's no other help around, all you can do at that point is try to decipher your notes or just toss and turn in bed.
StudyPug is perfect for these situations, letting you fill in those gaps by providing lessons that you can access however you want; you can skip the ones you don't need and get to the ones you really need. Learning websites like StudyPug are readily and easily accessible so you can go through online math courses when you want. You may lose some sleep over it, but you'll be relieved once you're finally done with the exam and realized just how much your impromptu preparation actually paid off because you had good help.
It also allows you to learn how to become more diligent by letting you study material in advance through comprehensive math tutorials. This gives you a head start and lets you know what you can ask your tutor about. With your tutor as your guide and StudyPug as supplementary material, you're reinforcing your learning process with a support system that makes sure you learn at the pace that's best for you without worrying about when you can get that assistance.
Math teachers may show you one way of solving a problem, but there may be alternative solutions that suit your style more. You may ask your tutor if he/she knows any alternatives; it's good if he/she does. You can then check StudyPug for alternatives and get comprehensive rundowns on how they work, how they're different from what you were taught, and how they end up solving the same problem. In the end, as long as you solve math problems and get the right answer, that's what count most.
With StudyPug, you can track your progress and maybe even backtrack in case you need a refresher on some material in previous years. Schools like to assume that once you've gotten past them, you already know them by heart. But with a math tutor and StudyPug on hand, you can take matters to your own hands and make sure that you know it all by heart.
It's the love of learning that StudyPug is all about, and being able to take advantage of it along with the help of a math tutor doubles its effectiveness and can make you a much better math student.
Online Video Tutoring – Why it Works
You may be interested in video tutoring now, or at least you want to learn more. It just may provide a solution for students and their parents that they weren't expecting.
With no teacher by a student's side, it can be very frustrating for them to fully understand a complex topic. In problem subjects like math, many families are turning to online math tutoring for the additional support they need.
Technology is Changing How We Learn
The problem with traditional in-person tutoring is that it often isn't there when the student needs help. This is why video tutoring is on the rise and is proving to be a great solution for those looking for an option that is effective, affordable and provides 24/7 access.
It can also assist in mastery learning, where a student can view a complex problem as many times as they need to.
There is a reason the educational use of video on campuses is accelerating rapidly in departments across all disciplines throughout North America; it's because it works.
For a quick overview of the benefits of video learning, check out the infographic below.

Don't forget, you can activate a 7-day free trial at StudyPug to see if online video tutoring is right for you! It's like having your own online math tutor that's always available. Try it out now and you just may have another tool to help you out through your educational journey and you'll be able to get the math homework help that you need.