Between 5 and 10 per cent of military families are homeschoolers, according to Mike Donnelly of the Purcell, Virginia-based Home School Legal Defense Association, and it should come as no surprise that the number is growing.
First of all, homeschooling is on the rise generally throughout the United States; more than 2.3 million American youth are homeschooled today, more than twice the 1.09 million who studied at home in 2003, according to the most recent statistics from the National Home Education Research Institute (NHERI), a not-for-profit organization that tracks data about homeschooling.
"Gone are the sideways looks they [the parents] sometimes got when their decision to home school came up in conversation," Lt. Col. James Rexford told the Army Times. "Now, the response is usually, 'Oh, that's awesome. We're thinking about doing that too.' "
Second, and perhaps more important, is that homeschooling seems tailor made for the impermanence of the military lifestyle. Active duty military families move every two or three years, not counting relocations for special training courses, and it is this factor that is partly driving the increased numbers, Mary Keller, president and chief executive officer of the Military Child Education Coalition, told pbs.org.
"The tough thing as you move from state to state, you can miss fundamental concepts," said Keller, a former assistant superintendent in the Killeen Independent School District in Texas. "You can move and [your child can] miss fractions just because your sending school hadn't gotten there yet and your receiving school has already done it."
Homeschooling Military Children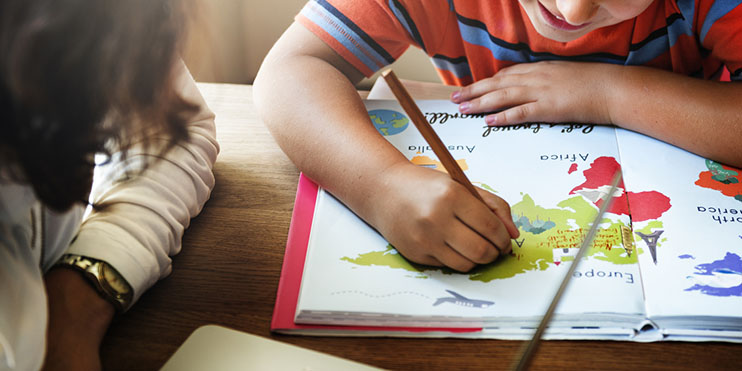 The bumps in the curriculum are a big issue, but so are concerns about adjusting to a new school and new classmates. Lindsay Burchette, a Navy wife, decided in 2011 to homeschool her eight-year-old son when he expressed trepidation about news schools as transfers took the family from Tennessee to Florida and on to Virginia.
"Starting a new school is bad enough, and doing it twice over seemed like a lot," Burchette, a mother of three, told the New York Times. "He kind of perked up after we mentioned that. The move kind of changed perspective for him."
Military Homeschooling Overseas
Homeschooling also offers flexibility, another big benefit for families where the breadwinner may have an irregular schedule or be away from home much of the time.
"The good thing about us being able to home school, I could keep the lesson plans in line with his job," Mariel Barreras, an army wife and founder of the Home School Association for Military Families, told pbs.org. "When daddy was home, we didn't do school, or we did the fun school projects—the field trips, the science projects. Then when he was gone, we did school work, even if it was Saturday."
Finally, military families may choose homeschooling for the same reasons that many other families do: religious reasons, unhappiness with the local school system or a desire to cater to children with special needs. As for other families, military homeschooling requires a mother who can stay at home to teach, so it doesn't suit everyone. However, the military gave its blessing to homeschooling in a 2002 memo that called it a "legitimate alternative form of education."
Homeschooling While in the Military
For such a mobile population, homeschooling can pose bureaucratic challenges that other homeschooled families don't face, because each of the 50 states has its own rules and requirements for homeschoolers. There is a now an agreement called the Interstate Compact on Educational Opportunity for Military Children. signed by all 50 states and Washington, D.C., that addresses such things as graduation and enrolment, but specifically avoids curriculum issues, because individual states don't agree on those.
Barreras said the curriculum rules about subjects, content and testing vary widely from state to state, making it challenging for families that move regularly.
"It can be as easy as just filing a private school affidavit, to being required to file under an umbrella school, to having to submit all of your lessons plans with the school board," she told pbs.org.
Valerie Moon, told the Army Times that "The biggest mistake military homeschoolers usually make is assuming they don't have to follow the stated laws where they're stationed."
Homeschool Association for Military Families
This patchwork quilt of rules prompted Barreras to found the Home School Association for Military Families with the vision of supporting "families with information, educational opportunities and special programs." The organization provides a home school starter kit for parents that include information on state laws, curriculum options and mentorship opportunities. Its programs include a student summer reading program and an ongoing pen pal program that supports literacy and reading comprehension while exposing students to other cultures.
Wherever they are stationed, military families are drawing on the association and other resources to make homeschooling work for them.