Meet Dennis, your ACT Compass Test Prep tutor
Do better with StudyPug!
Watch how we take you through a lesson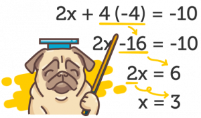 Cover your
course textbooks
Common Questions
I'm preparing for Compass Math. How should I start?
You can first test yourself with this sample Compass test questions to see which areas and topics you need to focus more on. Then, watch our video lessons and work on the practice questions for review and better understanding.
What should I expect when in the Math Compass test?
It is made up with multiple-choice questions. Only calculators with the most basic functions are allowed. You will also be provided a calculator on the screen during the test too.
Any tips on getting a good score in the ACT Compass test?
The test is computer-adaptive. So, the difficulty level of questions given to you changes based on how well you answer the previous ones. Since it is untimed, you should take as much time as you need to best demonstrate your skills.
Do better with StudyPug today
Customer Reviews
4.7 stars based on 7 reviews.
StudyPug is well worth the investment! It's the ultimate compass test practice if that what you're looking for. I needed something that covered what the test would cover, and StudyPug was perfect. I know that if you're looking for a math practice test in general, StudyPug is sure to have something right up your alley.
I haven't touched coursework for a few years since I got out of school. Since returning back, I've struggled to find a good place to study for my compass test. I needed algebra practice, and was also looking around for a geometry practice test. StudyPug is a wonderful place to get help on these topics and more!
I didn't even know where to start when I was first trying to do my compass test prep. Finding this website was the best thing to have happened to me! StudyPug is well laid out with separate video lessons covering each topic. It's super clear too. It has been a good ten years since I last studied math, so I was surprised when a lot of the concepts came rushing back! I did great on my compass test, and I definitely owe it to StudyPug!
Using StudyPug makes me feel like I'm getting one-on-one lessons. If I ever have a question on the topic, all I have to do is rewind the video. I also have plenty of practice COMPASS test questions before I have to take my COMPASS placement test thanks to this site.
My son's first attempt at the COMPASS test didn't even get him into the basic college algebra class. He definitely had some brushing up to do. When we got him to try StudyPug and saw him finally acing a practice compass test, we felt so relieved. He retook the test and got into calculus!
I was really nervous about the COMPASS placement test that I'd have to take for college. The program I wanted to get into required pretty high marks. I did my COMPASS test prep through StudyPug by watching their videos and going over the concepts that are covered in the COMPASS test. They have everything so it made my life a million times easier. I even got into the program I wanted to enter!
Keep up the great work, you folks at StudyPug! I'll be taking my COMPASS test in 2 months after being in the workforce for 3 years. Without you guys, I would've definitely not been anywhere near as confident as I feel now!
ACT Compass Test Prep topics
We have plenty of free lessons for you to watch
Don't see what you need?
Don't fret, try searching all of our topics
Students and parents love our math help
But don't take our word for it…

When we saw our son's grades we looked online for a convenient, affordable and effective solution. StudyPug has been a great investment.

Jason G.
high school senior
This website saved my butt last semester. I am using it againthis semester. Dennis is the best online tutor... I also like that I can watch videos over and over until I really understand the concept. If you want to save time, sign up...it's only ten bucks and it saved me hours of study time. Thanks, Dennis!

Aaron M.
high school student
I get a whole library of videos that covers everything from basic to complex mathematics for a very low monthly price. Excellent videos, easy-to-understand and most of all they work. My math test results are 10 points higher than last semester.