Meet Dennis, your ACCUPLACER Test Prep tutor
Do better with StudyPug!
Watch how we take you through a lesson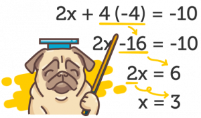 Cover your
course textbooks
Common Questions
I need help with algebra review for Accuplacer. How should I start?
You can first test yourself with this sample Accuplacer test problems to see which areas and topics you need to focus more on. Then, watch our video lessons and work on the practice questions for review and better understanding.
What should I expect when taking the College Board Accuplaccer?
Depending on the test you are taking, there will be 16 to 40 questions in the test. Yet, a breakdown is as follow: Arithmetic section has 17 questions; College-level math section has 20 questions; and Elementary algebra section has 12 questions. No calculators are allowed but you will be provided with one on the screen in the test.
How long is the Accuplacer test?
All Accuplacer are multiple choice tests with no time limits. It is also a computer-adaptive test. The difficulty level of questions given to you changes based on how well you answer the previous ones. Take as much time as you need to best showcase your skills!
Do better with StudyPug today
Customer Reviews
4.8 stars based on 9 reviews.
Have been using StudyPug for the last three years and my dad was so proud when I did exceptionally well on my Accuplacer test!
I wanted my son to study for the math placement test that his high school administers called the Accuplacer. Parents from upper years have told me that getting a good mark on this test really helps shape the courses my child will be taking in future years. StudyPug is a great place if your child is looking for an Accuplacer practice test. Lots of great content and my son doesn't despise it, which is amazing since he usually hates anything dealing with math and math review.
The college board at my college makes sure we do Accuplacer tests. They're super annoying, but if you don't want to get into the junk classes with terrible teachers, you need to do well in them. My Accuplacer scores have been great and in math, I'm placed in a more advanced class. I know I'll be turning to StudyPug to help me out with my upcoming term!
My child's math isn't the best—it's actually her worst subject. Her math tests have always been a little worrying. Imagine my surprise when she got very high marks for her Accuplacer in math! She even aced the algebra math problems! She then told me she's been using StudyPug, and I've been telling all my brothers and sisters that if their kids needed math help, StudyPug will do wonders.
There aren't many decent Accuplacer practice tests out there. I've found that if you use StudyPug, you'll be able to learn all the topics covered. It's really not hard to use. It's always available as long as I have internet. Loving my experience on it so far.
Was trying to find a good place to do some algebra review and got some great algebra math problems off StudyPug. They also cover a lot of other topics too and I know I'll be using the site to help me with all my future math needs.
My daughter is eager to take the accuplacer test to gain credits. She asked that we signed her up for a StudyPug account and study the online accuplacer tutoring lessons for her to learn accuplacer better. She is now getting really good at solving math questions and problems!
I am an engineering student and have decided to take the accuplacer test and give me more credits. I am taking an accuplacer tutoring lessons on StudyPug and studying an accuplacer help guide that comes with it, and the copy of Accuplacer for Dummies is also a huge help. I now feel ready for the exam, all thanks to the accuplacer help guide!
The elementary algebra section of the Accuplacer test was something I was quite nervous for. I started using reference materials to help me with my studying. StudyPug was the one I eventually stuck to because it was just so simple and easy to understand. I ended up with a score of 101! Thanks StudyPug!
ACCUPLACER Test Prep topics
We have plenty of free lessons for you to watch
Don't see what you need?
Don't fret, try searching all of our topics
Students and parents love our math help
But don't take our word for it…

When we saw our son's grades we looked online for a convenient, affordable and effective solution. StudyPug has been a great investment.

Jason G.
high school senior
This website saved my butt last semester. I am using it againthis semester. Dennis is the best online tutor... I also like that I can watch videos over and over until I really understand the concept. If you want to save time, sign up...it's only ten bucks and it saved me hours of study time. Thanks, Dennis!

Aaron M.
high school student
I get a whole library of videos that covers everything from basic to complex mathematics for a very low monthly price. Excellent videos, easy-to-understand and most of all they work. My math test results are 10 points higher than last semester.