Meet Andy, your Grade 9 Math tutor
Do better with StudyPug!
Watch how we take you through a lesson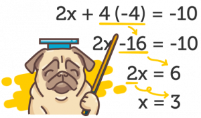 Cover your
course textbooks
Common Questions
My textbook is Math Makes Sense 9. Is your grade 9 math help right for me?
Yes! We cover all the topics you'll find in your textbook. For those who use other grade 9 textbooks like, Principles of Mathematics 9 and Mathlinks 9 – don't worry, we have math help on everything in your textbook too.
I'm taking MPM1D (Principles of Mathematics) in Ontario. Would you grade 9 math lessons help?
For sure! You can find all topics you will need for your class on our site. Not just, MPM1D, we also cover topics in MFM1P, Foundations of Mathematics in Ontario, Grade 9 (10F) in Manitoba, and any typical math courses you might take in grade 9 math as well.
What class should I take after grade 9 math?
A prerequisite for this course is Grade 8 Math or Pre-Algebra, and after you mastered grade 8 math, your follow up course should be Grade 10 math.
Do better with StudyPug today
Customer Reviews
4.9 stars based on 7 reviews.
My son has been failing grade 9 math and StudyPug has been helping him tremendously! He has a place to find help for his grade 9 math worksheets that he takes home and he can get access to a lot of info all in once place.
I wish I had found out about this site a few years back. My daughter failed her grade 9 math exam and we didn't know what to do. A private tutor wasn't something we could afford in our household budget, but we had to do something about her math. We signed up for StudyPug to try it out and my daughter's average is now a 82%! A big jump from the 44% she was at earlier. Looking forward to many more years with the site for when my daughter progresses through the rest of her high school math curriculum.
I'm so happy because after I used StudyPug, I was able to answer the hardest math question on the grade 9 math test at school that my teacher uses for bonus marks!
My grade 9 math class was a real challenge this year since we started a new program that put the kids that were lagging behind in math into one class so that we can focus on further breaking down the concepts in hopes it'll help them understand the lessons better. I found that StudyPug demonstrates how to tackle what's in the grade 9 math textbook the best way possible in order for kids to grasp the lesson. A wonderful reference indeed!
I have twins and they're both able to use StudyPug together. I watch the videos with them after dinner and we go through the practice problems. The instructors cover the Ontario math curriculum wonderfully and the twins say that the videos are much better than their grade 9 textbook!
I love StudyPug because everything is right there for me when I need it! I have no problems finishing my grade 9 math worksheets anymore and I can do them really quickly!
We had to fire my son's last tutor because he didn't have the patience to repeatedly explain concepts. My son's a little slower in understanding numbers, so the tutor just wasn't the right fit. When we heard about StudyPug, we realized he could just rewatch videos when he didn't understand the lesson. He's currently using it to help him with grade 9 math in the Ontario math curriculum and it has been working wonderfully! And for a fraction of the cost of a tutor!
Grade 9 Math topics
We have plenty of free lessons for you to watch
Don't see what you need?
Don't fret, try searching all of our topics
Students and parents love our math help
But don't take our word for it…

Vera Volkov
Parent of a grade 9 student, Vaughan Secondary, Toronto, ON
My husband and I do not know about the education in Canada so well. We looked for math tutors for our daughter but they are so expensive, and we don't know if they are good. You offer excellent math help for a very affordable price. My daughter always watches the videos whenever she has any math questions. Now she can even teach her friends math at school too.

Sarah J. Kim
Grade 9 math student, Notre Dame, Calgary, AB
thanks Dennis, math is not so hard now. I don't think that was possible before I started using you. Before the year started, math was my most hated class. I don't understand a word my math teacher was saying! After signing up, I finally start understanding some stuff.. thanks and god bless.

Peter Jenkins
Grade 9 math honors, Burnaby South, Burnaby, BC
I do really well in math – but our honours class is very competitive. You are my secret weapon! I like how we can study ahead with your class!