Meet Andy, your Grade 8 Math tutor
Do better with StudyPug!
Watch how we take you through a lesson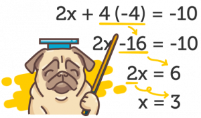 Cover your
course textbooks
Common Questions
My class uses Math Makes Sense 8. Would your grade 8 math lessons help?
Certainly! Our lessons cover all the topics you will find in your textbook. Not just Math Makes Sense, we have lessons on topics you see in other grade 8 math textbooks such as Nelson math 8 (Math Focus) and Mathlinks 8.
I can see that your grade 8 math help matches the Ontario curriculum. However, does it also fit the math curriculum in other provinces? I want to make sure before I recommend this site to my friend who is living out of town.
Our grade 8 math is designed to provide math help for all grade 8 students across Canada. Please tell your friend to visit our website. He/she won't be disappointed!
What class should I take after grade 8 math?
A prerequisite for this course is Grade 7 Math or Pre-Algebra, and after you mastered grade 8 math, your follow up course should be Grade 9 math.
Do better with StudyPug today
Customer Reviews
4.8 stars based on 9 reviews.
I'm a Canadian teacher and I teach grade 8 math under the Ontario curriculum. I've been using StudyPug to reference how courses are laid out and explained to students and it has been a great resource.
My daughter used StudyPug during an intensive math summer course that covered both grade 7 math and grade 8 math. The Ontario math curriculum was a little fast for my daughter, so we tried to help her catch up with the summer course. It proved to be quite a bit in terms of workload so we signed her up for StudyPug so she could get math assistance at home. It worked out wonderfully and is now amply ready to tackle her grade 8 year!
StudyPug provides not only practice problems, but also videos to help explain the chapter and the examples. My eighth grader ran into issues with the math questions he'd bring home for homework from school. He signed up for StudyPug and we were glad to continue his subscription when he brought home an A for his quiz!
I think StudyPug is really easy to use and it helps me with my grade 8 math homework.
I used to have a tutor, but now I use StudyPug. I like it more because I can watch the videos when I have time, or when I'm doing my grade 8 math questions.
I was at a workshop at my son's school and a teacher suggested StudyPug for those who needed extra help because they properly cover the Ontario math curriculum. My son's currently in grade 8 and not the best at math. StudyPug has been a very useful companion to his grade 8 math textbook and I was glad to find that StudyPug offers courses well into the higher grades.
I'm homeschooling my son right now as he will be in the hospital for most of the school year. StudyPug is excellent for homeschooling—it actually does a lot of the teaching for me. It makes sure my son understands the topics, and it follows the Ontario curriculum very well. I think it's doing a great job of keeping him aligned with what his classmates are learning in class, if not allowing him to be further ahead!
Mathematics at this level is hard to explain clearly because the concepts behind the questions are so basic. I think the teachers here did very well in that regard. I even learned a few tricks that can be used in my class.
Grade 8 Math topics
We have plenty of free lessons for you to watch
Don't see what you need?
Don't fret, try searching all of our topics
Students and parents love our math help
But don't take our word for it…

Charlotte McKenzie
Grade 8, Highlands, Edmonton, AB
Math was fun for me before I started to learn linear equations. I was so stuck. Thank god I found you StudyPug! I just could not believe linear relation can be this easy. I'm sure I couldn't have passed my test without you guys. Oh, and I think your videos look awesome on my cell and tablet too!

Richard Taylor
Grade 8, Montclam, London, ON
I like StudyPug because your lessons are short and so easy to understand. Your website is just like my textbook. It is easy to find the chapters of my textbook on your website. I use you whenever I don't know how to do my math homework. You saved me a lot of time looking around for help. Thanks!

Olivia Wilson
Grade 8, Lester B. Pearson, Hamilton, ON
You are the best math help website I have ever used. I can find the topics I'm learning on your site easily. Your videos are so helpful too. If I missed something in class or I don't understand, I will just go to StudyPug to look for help. Math class isn't that scary anymore!