Meet Andy, your Grade 7 Math tutor
Do better with StudyPug!
Watch how we take you through a lesson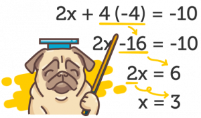 Cover your
course textbooks
Common Questions
My class is using Nelson Math Grade 7. Can I use your site?
Of course! We cover all grade 7 math topics you'll find in your textbook. Our grade 7 math class also contains help on all materials you will find in other commonly used textbooks, such as Math Makes Sense grade 7.
Our family is moving from Calgary to Toronto. I assume that the mathematics class in my son's new school will follow the Ontario curriculum. I wonder if the content of this grade 7 math course applicable to both provinces?
Sure! We've got you covered across Canada! Our grade 7 math curriculum incorporates all syllabuses from different provinces and territories. Therefore, your child can still get the relevant math help from us after switching to the new school.
What class should I take after Grade 7 math?
After mastering Grade 7 math, your follow up course should be either Grade 8 math or Pre-Algebra.
Do better with StudyPug today
Customer Reviews
4.9 stars based on 7 reviews.
I improved a lot in my grade 7 math class because of StudyPug and I really like it!
My daughter's class mainly gives out grade 7 math worksheets and printouts, but don't actually have a grade 7 math textbook for them. We've been using StudyPug as a reference for the chapters she's learning in class and we were happy to find that it fits the Ontario curriculum very well.
StudyPug allows me to guide my granddaughter through her math class. StudyPug moves what you need to know about grade 7 math online so it's easy and accessible. It's not too hard to use (I'm mediocre at best when it comes to the computer), and I was overjoyed when my granddaughter showed me her grade 7 math test results. She got an A+! Bless this site.
My child's in the honors program at school and oftentimes, they're met with challenging math problems that are more advanced than what the usual grade 7 math textbook provides for his grade. I think StudyPug is great for my child since he gets access to a wide variety of math topics with no restrictions. He uses StudyPug to reinforce his mathematics through the instructor videos and practice problems. This site is definitely a wonderful investment.
I was having problems with grade 7 math topics till I started using your site. The teachers are great and I aced my grade 7 math test!
I teach grade 7 math in the Ontario elementary curriculum and I have found StudyPug to be a wonderful place to consult when I make questions for math tests. Their problems are well-rounded and can really reinforce what is taught in class. A well-curated mathematics resource.
I tried out StudyPug personally before I told my daughter to use it. I found the videos to be easy to understand, and they provide not only step-by-step examples, but also practice problems for you to do yourself. My daughter's doing grade 7 math and I've been seeing great results. She's using it in tandem with her grade 7 math textbook, but in my opinion, she's learning a lot more (and faster) from StudyPug than from the textbook.
Grade 7 Math topics
We have plenty of free lessons for you to watch
Don't see what you need?
Don't fret, try searching all of our topics
Students and parents love our math help
But don't take our word for it…

When we saw our son's grades we looked online for a convenient, affordable and effective solution. StudyPug has been a great investment.

Jason G.
high school senior
This website saved my butt last semester. I am using it againthis semester. Dennis is the best online tutor... I also like that I can watch videos over and over until I really understand the concept. If you want to save time, sign up...it's only ten bucks and it saved me hours of study time. Thanks, Dennis!

Aaron M.
high school student
I get a whole library of videos that covers everything from basic to complex mathematics for a very low monthly price. Excellent videos, easy-to-understand and most of all they work. My math test results are 10 points higher than last semester.