Meet Andy, your Grade 6 Math tutor
Do better with StudyPug!
Watch how we take you through a lesson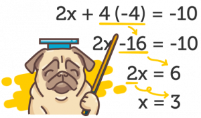 Cover your
course textbooks
Common Questions
My class is using Nelson Math Grade 6. Can I use your site?
Most definitely! We cover all the topics you'll find in your textbook. For those who use Math Makes Sense grade 6 – don't worry, we have math help on everything in your textbook too.
How do I get my kids ready for the grade 6 math test with StudyPug?
First of all, you can try to identify the topics which your kids need help on. Test your kids with the math grade 6 math questions available in our site would be a good start. Once you know where your kids should put more effort on, you may ask your kids to watch our video lessons on those topics, and then test them again. Your kids should be ready for the math quizzes or tests in no time!
What class should I take after Grade 6 math?
After mastering Grade 6 math, your follow up course should be either Grade 7 math or Pre-Algebra.
Do better with StudyPug today
Customer Reviews
4.8 stars based on 8 reviews.
Though I'm only in grade 5, I'm able to do grade 6 math because of StudyPug! I really love using this site.
What I like most about StudyPug is that it's like having a teacher at home with my son when he's working on his grade 6 math worksheets after dinner. I can't explain the concepts to him as clearly as the online videos, nor am I sure my answers are correct. It's also a great companion to my son's grade 6 math textbook. I really endorse what StudyPug offers kids, and recommended it to a few of the parents at my son's school.
I sometimes can't follow my teacher in class, and they also can't always repeat what they teach in class. I like being able to play back videos at home on StudyPug and I use it like a tutor to help me with grade 6 math. It's very useful!
I'm really glad StudyPug exists. It's bringing my sister's confidence in math back, and it also lets me free up some of my time to concentrate on school. My parents asked that I help tutor my sister out for her grade 6 math test, and I did my best. She did alright, but I started to see my own college grades suffer. I'd much rather leave the teaching to the professionals, and I've watched a few of the grade 6 math tutorial videos on StudyPug with my sister. They're really wonderful.
A great tool to use as a companion for the grade 6 math textbook that I teach from. Helps to visually demonstrate problems, and a good place to draw extra example question from.
My son previously had issues with another online tutoring system since the videos were very long and we would keep losing track as to where we were in the course. We switched to StudyPug when he entered grade 6 math. The StudyPug tutors keep the lessons short and concise, and allows you to jump specifically from question to question. The tutorial videos are well organized as well. It has been a great help in preparing him for his grade 6 math test and he started off his year with an A!
A fellow colleague told me about StudyPug as a grade 6 math tutor and how it can be a guide for simpler ways to introduce concepts to kids. Since I teach grade 6 math, I'm always looking for ways to make learning easier and to not discourage kids from math at an early age. Impressed with what StudyPug has to offer.
Grade 6 Math topics
We have plenty of free lessons for you to watch
Don't see what you need?
Don't fret, try searching all of our topics
Students and parents love our math help
But don't take our word for it…

When we saw our son's grades we looked online for a convenient, affordable and effective solution. StudyPug has been a great investment.

Jason G.
high school senior
This website saved my butt last semester. I am using it againthis semester. Dennis is the best online tutor... I also like that I can watch videos over and over until I really understand the concept. If you want to save time, sign up...it's only ten bucks and it saved me hours of study time. Thanks, Dennis!

Aaron M.
high school student
I get a whole library of videos that covers everything from basic to complex mathematics for a very low monthly price. Excellent videos, easy-to-understand and most of all they work. My math test results are 10 points higher than last semester.