Solving linear systems using 2 x 2 inverse matrices - Matrices
Solving linear systems using 2 x 2 inverse matrices
Now that we learned how to solve linear systems with
Gaussian Elimination
and Cramer's Rule, we are going to use a different method. This method involves using 2 x 2 inverse matrices. To solve the linear system, we find the inverse of the 2 x 2 coefficient matrix (by using either row matrix operation or the formula) and multiply it with the answer column. Multiplying them would result in a column matrix, and the entries in the column matrix will give you a unique solution to the linear system.
Lessons
Notes:
Back then we learned that the linear system






Can be represented as the matrix



Now we can actually represent this in another way without the variables disappearing, which is



Now let , and . Then we can shorten the equation to be .

Now multiplying both sides of the equation by will give us

We know that , so then our equation becomes .

We also know that , and so our final equation is



With this equation, we can solve (which has the variable and ) simply by finding the inverse of , and multiplying it by .
1.

Solving the system of equations using inverse matrices
You are given and . Knowing that , solve the following linear systems by finding the inverse matrices and using the equation .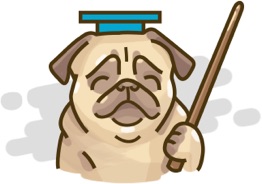 Solving linear systems using 2 x 2 inverse matrices
Don't just watch, practice makes perfect.
We have over 1850 practice questions in Algebra for you to master.