The inverse of a 2 x 2 matrix - Matrices
The inverse of a 2 x 2 matrix
In this lesson, we will learn how to find the inverse of a 2 x 2 matrix. You will learn that if two matrices are inverses of each other, then the product of the two matrices will result in an
identity matrix
. Next, you will learn how to find the inverse by using the formula below. You may find that the formula is hard to memorize. There is another way to find a 2 x 2 matrix without memorizing the formula, but it would require matrix row operations. You will see this method in the section "the inverse of 3 x 3 matrices with matrix row operations". Lastly, note that the inverse of a 2 x 2 identity matrix is just the identity matrix itself.
Lessons
Notes:
Let the matrices and be inverses. Then that means the following is true:


where is the identity matrix. To be more precise, we can say that since and are inverses, then is the same as , and so we can say that



Let be a matrix and you want to find the inverse (denote as ). Then we use the following formula:

Intro Lesson

The Inverse of a 2 x 2 matrix overview: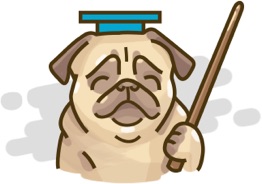 The inverse of a 2 x 2 matrix
Don't just watch, practice makes perfect.
We have over 1850 practice questions in Algebra for you to master.