Solving a linear system with matrices using Gaussian elimination - Matrices
Solving a linear system with matrices using Gaussian elimination
Lessons
Notes:
Note
Gaussian elimination (or row reduction) is a method used for solving linear systems. For example,





Can be represented as the matrix:



Using Gaussian elimination, we can turn this matrix into

(watch the intro video to learn how to do this!)

Now we can start solving for and .

So in the third row, we see that . So .

In the second row, we see that . Since we know that , then we can substitute it into the second row and solve for . So,

→
→
→
→

So now we know that , and . Now let us take a look at the first row and solve for .

→
→
→

Since we have solved for and , then we have just solved the linear system.

2.

Gaussian Elimination
Solve the following linear systems: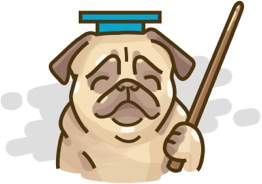 Solving a linear system with matrices using Gaussian elimination
Don't just watch, practice makes perfect.
We have over 5410 practice questions in Algebra for you to master.